Here is my honest review and experience investing on the Mintos peer-to-peer (P2P) lending platform since 2016. Over the past three years, through auto-invest in loans with Buyback Guarantee, I have received an average annual return of 11.90 % per year. To cut a long story short, until today, Mintos is my favorite P2P lending platform ⭐️
This Mintos 2021 Review is 100% honest and truthful. I am not paid by Mintos or anyone else for sharing my experience. My intention with this review is to document my journey and to inspire others to build passive income through P2P and ETF investments that run in the background without much work. At the end of this review, I am sharing my auto-invest settings and some important details about Mintos.
My first investment on Mintos was 500 EUR back in June 2016. I have since both added and withdrawn money from the account, which was really easy and reliable. Both ways, the transfer took less than 24 hours and was free. Mintos is a P2P marketplace offering loans from 64 loan originators.
---
Quick facts:
✅ 64 loan originators from 30 countries
✅ Plenty of loans with BuyBack Guarantee available at 12-13% interest
✅ Very high availability of loans due to large number of loan originators
✅ Largest P2P lending platform in Europe
✅ Secondary market allows selling of loans within hours
New investors can receive a 1% bonus on all funds deposited and invested within 3 months of their account being opened. To take advantage of this offer, visit Mintos using
this link
and you will automatically qualify. This offer is not available directly from Mintos, please make sure you use the link to qualify.
---
What is Mintos?
Mintos is a global peer-to-peer (P2P) lending marketplace based in Riga, Latvia. Since launching its operations in 2015, Mintos has grown rapidly and risen to the largest European P2P lending marketplace with over 40% market share.
Important to know is that Mintos does not originate loans or connect borrowers directly to the investors. Instead, Mintos works with existing loan originators (64 lending companies from 30 countries as of 2020) who offer their already funded current loans on the Mintos platform to private small-scale investors (like me!).
Mintos is the only double-award winner at the AltFi Awards 2019. Mintos earned the title "Alternative Finance Platform of the Year 2019" as well as the fourth year in a row, was voted as the winner of the "People's Choice Award" by its investors. Deloitte's Technology Fast 50 industry report listed Mintos in the Rising Star category as one of the fastest developing fintech companies in Central Europe.
Mintos has over 314,000 registered investors from 70 countries, each investing an average of 2900 EUR across 216 different loans. In 2020, investors on Mintos earned EUR 106 million in interest. Since its inception, more than 5.3 billion EUR have been invested in 6.9 million loans through the Mintos platform.
Mintos employs more than 180 employees at its headquarters in Riga/Latvia.
---
My Mintos experience: monthly interest payments & interest rates
My monthly interest on the Mintos platform has grown steadily over the past years as I have been adding investments to the platform. Over the past year, my annual net return was 11.63% investing only in loans with BuyBack Guarantee from loan originators with A and B ratings. Click here to see my monthly reports, including details about Mintos.
---
My Mintos auto-invest portfolio settings:
The Mintos platform offers more than 14 settings/filters to adjust the auto-invest portfolio. Settings/filters include Mintos' rating, term, interest rate, loan type, loan country, buyback guarantee, borrower APR, loan originator, the status of the loan, amortization method, investment structure, LTV ratio, issue and listing date among others.
My entire Mintos portfolio is automated using the Mintos auto-invest functionality. I usually check once a month if things are fine and adjust the auto-investment tool if necessary. I have 2 auto-invest portfolios, to get a mix of primary market and secondary market loans on the Mintos platform.
You can click on below auto-investment portfolio screenshots to enlarge them.
Important: When setting up the auto invest portfolio, make sure you selected the following:
1. Only loans with Buyback Guarantee!
2. Rating of platforms: A+, A, A-, B+
3. Diversify across loan originators: YES (Diversification Settings: equal)
---
---
Mintos Review: The important details
1. LOAN ORIGINATORS
As I have mentioned elsewhere on this blog, when it comes to investing in P2P loans, it is of crucial importance to diversify. Diversification can be done at different levels, one of the most important ones being to diversify loan originators. While most platforms are offering Buyback Guarantee in case a loan defaults, there is no buyback in case an entire loan originator defaults.
While many other platforms (e.g. Swaper) only offer loans from one single loan originator, Mintos – as the biggest P2P lending player in the market – offers loans from 70 loan originators. That means that as an investor one can access loans from 70 loan originators from 33 different countries. Hence the money invested is much better diversified as it can be spread across 70 loan originators.
Mintos ranks all of its loan originators from A+ for Low risk to C- for Elevated risk. The Mintos Rating is an indicator of each of the 70 loan originator's financial and operational stability.
In more technical language that means that the Mintos Rating measures the counterparty risk or risk of loss resulting from a loan's originators' failure to service and/or transfer the received payments from borrowers to investors or meet other contractual obligations (including but not limited to the buyback obligation).
What if a loan originator goes bankrupt?
While it is unlikely that a loan originator goes out of business and files for bankruptcy, Mintos has put in place arrangements to ensure that investors continue to receive payments on the loans in which they have invested in through the Mintos marketplace in such as case. What exactly happens, depends a bit on whether the loan originator offers loans with the Direct and Indirect Structure, and is explained in detail in this section on the Mintos website.
Since Mintos started in 2015, the platform has experienced problems with only 1 loan originator: Eurocent. While the legal case is still ongoing (Mintos is fighting on behalf of its investors), investors received more than 50% of their investments back. The Mintos Blog provides more details.
Important: To be on the safe side, I invest both in direct and indirect loans but only from loan originators with ratings A+, A, A-, and B+ . This can easily be adjusted in the auto-invest settings and 24 out of 64 loan originators meet the requirement.
2. BuyBack Guarantee
The majority of loan originators on Mintos offer Buyback guarantees on their loans. But what does that mean?
That means that if a borrower (the person borrowing money) fails to make repayments for 60 days, the loan originator will step in and return your invested principal + interest earned for the period you held the loan, including the 60 overdue days.
Important to know is that the Buyback Guarantee is not from Mintos but from the loan originator. So in the case, the loan originator goes down, the Buyback Guarantee is also gone. Thus the Buyback Guarantee doesn't make investing risk-free, but it transfers the risk from the borrower to the loan originator. Which means that as an investor, I don't have to worry about each and every borrower/loan in our portfolio.
And it also means that it is even more important to choose loan originators with good rankings indicating their healthy and profitable operations (see section above)
Important: My Mintos auto-invest portfolio settings buys only loans with Buyback Guarantee.
3. Mintos Secondary Market
The Mintos Secondary market is a marketplace that allows investors to sell their loans at any time. While other investors see it as a way to boost their returns (buying loans with a discount from other investors), I see it as an emergency exit that can provide liquidity and help reduce risks.
For example, if I am in need of money (let's say to buy a car), I can sell my investments on the Secondary market. It usually takes a couple of minutes or hours to sell investments, following which I can withdraw the money from Mintos back into my bank account.
How to use the Secondary market?
If I like to sell any of the loans that I am invested in, I can sell them at the Secondary market either at their current value, with a small discount, or with a mark-up. I have successfully sold some of my loans from a loan originator with a B- ranking in the past … and they were gone within minutes.
4. Adding & Withdrawing Money from Mintos
Adding and withdrawing money from Mintos is really easy and works fast. Both are free and usually take anywhere between 1-3 days.
Adding funds: Mintos does not charge any fees to add or to withdraw money. Adding funds can either be done by Direct Transfer through an online payment service provider (Trustly), which allows you to access the funds directly, by Bank Transfer (1-3 working days), or by Transferwise which usually takes 1-2 working days.
I always do Bank Transfer as it gives me a feeling of security.
Withdrawing funds: As easy as it is to add money, it is to withdraw it. Also for free and without any fees, Mintos send money to my bank account within 48 hours. Mintos uses TransferWise as a service provider for the transfer. Below is a screenshot.
5. Mintos Invest & Access
Mintos launched a new feature in June 2019, called Invest & Access. The new feature is an out-of-the-box solution where the platform does everything for the investor and not even an auto-invest portfolio needs to be set up. Invest & Access makes it super-easy for investors to invest and automatically diversify through a very wide selection of loans. And Mintos promises up to 12.62% interest per year.
Mintos invests the money in loans with Buyback Guarantee from all loan originators that have been at least 6 months on the platform (that means including in loans from loan originators with B-, C+, C, and C- rating)
Further, Mintos promises that investors are able to cash out instantly (subject to market demand), which eliminates the step of selling loans on the secondary market. Loans are being sold to other Invest & Access investors.
My take on Invest & Access
Certainly, Invest & Access is the easiest way to start investing in P2P loans. The platform automates everything and all the investor needs to do is to transfer money onto the platform. Minimum amount for Invest & Access is 500 EUR.
The feature is too new for me to have an opinion. For now, I decided to stick to my auto-invest portfolios for the following reasons:
I want to be able to choose my loan originators according to their ratings (A+, A, A-, B)
I want to be able to define the minimum and maximum loan period, interest rate, and amount per loan (for diversification)
I want to be able to sell my loans at the secondary market if need be (including having the possibility to sell them at a small discount to leave the platform fast if need be). This is not possible with the Invest & Access feature.

Mintos experience & review: Conclusion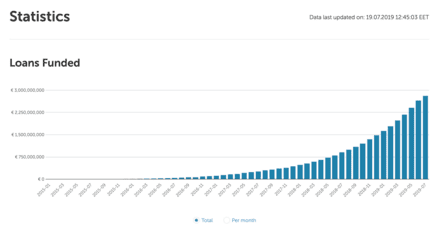 Mintos is the P2P lending market leader in continental Europe with a 38% market share according to AltFi Data. Based in Riga, Mintos has 112+ employees (growing rapidly!) and 160000+ registered investors across the world. The company makes profits since 2017 and leads the P2P lending industry.
Due to its size and growth, the platform has the largest number of loan originators among all platforms. Interest rates of 12+ percent p.a., BuyBack Guarantee, and a thriving secondary market which allows selling loans if need be —- makes Mintos my favorite platform in the market.
Since joining Mintos in June 2016, I have only had positive experiences with the platform. This is an honest review and honestly speaking – Mintos is by far my favorite platform. It's easy to use, trustworthy, transparent, and consistently bringing new loan originators and loans to the platform. As you can see from my Monthly Interest Updates, my performance on Mintos in 2020 is consistently around 8-11%, with my very conservative and save auto-invest settings. What else could I ask for.
My monthly interest payments on Mintos exceed 300 EUR with 32,000 EUR invested in the platform.
Bonus: Get 1% extra on all funds desposited and invested in the first 3 months.
Mintos currently has a campaign offering a 1% bonus on all investments you make within the first 90 days from your registration if you sign up through this link. You will not get this bonus if you sign up directly on Mintos.com. Signing up and setting up your first auto-invest portfolio takes only a few minutes and is totally free.