Here is my honest review and experience investing with the CrowdEstate real-estate crowdfunding platform.
It started in early 2019 after I had decided to further diversify my passive income investment portfolio and to branch into real estate crowdfunding/lending. Real estate crowdfunding and real estate lending was a relatively new investment class at the time – opening an asset class which was traditionally only accessible to institutional investors and high net worth individuals to small investors.
I joined CrowdEstate and Estateguru at the same time to be able to track and compare both platforms in terms of loan performance, loan availability, loan securities, cash drag, etc.
It is too early to tell who the winner of the race is. Both platforms are great real-estate crowdfunding platforms and both platforms have excellent track records. CrowdEstate is known for its high returns (average historical return of 20.54%), Estateguru is known for its securities and conservative investment opportunities (averaging 11% interest). The majority of loans are either secured with a first-rank mortgage (physical security), personal guarantees, or are backed with a mortgage.
For now, the combination of CrowdEstate and Estateguru, is a great way to diversify my portfolio while I get a foothold in the world of real estate crowdfunding/lending.
Important facts about CrowdEstate
✅ Loans available with interest rates between 11% and 16%
✅ Loan types: Real estate, corporate finance, and mortgage loans
✅ Secondary market. Allows users to sell investments to or buy investments from other investors. Allows users to liquidate and exit faster when desired.
✅ Risk rating: Loans are risk-rated by CrowdEstate between A1 and C5)
✅ Platform provides extremely detailed information about each investment (Project Details, Location, SWOT, Crowdestate rating/Risk analysis, Capital Structure, Finances)
🔴 No BuyBack guarantee (but loans secured with a first-rank mortgage (physical security) or personal guarantees
🔴 The platform is growing rapidly and loans are not always available. This app
🔰 Estateguru HQ: Tallinn, Estonia
🔰 Founded in 2014. Since then, 113 projects successfully funded with a historical return of 20.54%.
---
My CrowdEstate review & experience
So far, I would describe my experience with CrowdEstate as a mixed bag of feelings 😳. After I had registered and transferred my first money onto the platform, it took CrowdEstate a couple of weeks time to absorb my initial 2000 EUR investment.
Then, within a couple of weeks time, loans became available and the auto-invest did a great job diversifying my investment across 6 different projects, with different loan periods, LTVs, and a balanced expected rate of return.
In terms of user-friendliness, I have to say that the interface of the platform is confusing and not as intuitive as other platforms. Also, something investors have to keep in mind is that Crowdestate investments do not yield regular monthly returns. Below is a graph from the CrowdEstate Dashboard that predicts the upcoming cash flow.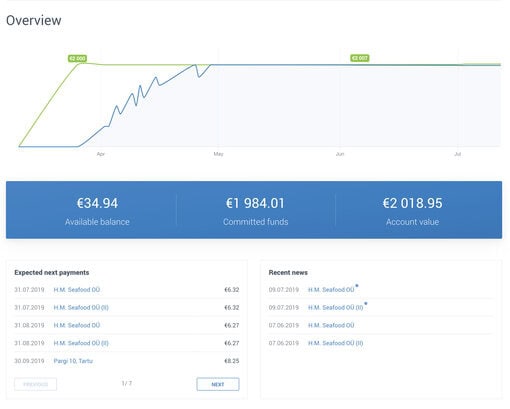 Crowdestate Dashboard
As said, the Crowdestate Dashboard provides all important information, but lacks in user-friendliness for me.
---
Opening an account with Crowdestate: My Review
Opening an account with CrowdEstate was really straightforward. Equipped with an ID and a phone number to receive text messages, the identity verification process worked by webcam and took only two minutes. I added funds to my newly opened account through a regular SEPA bank transfer (which free of charge) from my regular bank account. The funds showed up less than 24 hours after I had made the transfer, which was fantastic!
---
My auto-invest portfolio
Crowdestate has an important and useful auto-invest functionality. Other users have reported that new loans are often immediately absorbed by auto-invest portfolios, hence it is recommended to create and auto-invest portfolio as early as possible.
I decided to only invest in Real Estate and Mortage, and not in Corporate Finance loans, due to their non-existent BuyBack guarantee. For Real Estate and Mortgage loans are collateralized loans, secured by a commercial pledge. For Corporate Finance loans, I prefer Mintos which offers a BuyBack guarantee.
As a conservative investor, I adjusted my auto-invest settings as below:
CrowdEstate's main competitors
Real estate crowdfunding: Estateguru
Peer-to-Peer lending: Mintos, Swaper, Grupeer
CrowdEstate experience & review: Conclusion
CrowdEstate is a great platform and certainly serves my purpose to diversify my passive income portfolio in a third asset class (ETFs, P2P Lending, Real estate crowdfunding). The platform offers extremely high returns (average historical return of 20.54%) and has a great track record in delivering. This being said, there is no BuyBack guarantee – which always scares me. For me, for now, CrowdEstate is an experiment.