Welcome to my May 2020 Passive Income Update.
The world is in full lockdown and so am I. Taking the virus extremely serious and protecting those vulnerable around me, I am limiting my interactions with others as much as possible. I am staying at home and cancelled all planned trips for the coming months.
This being said, It's been a very interesting few weeks. Working from home (instead of from coffee shops), exercising at home (instead of at the gym), cooking all meals (instead of eating out), exploring nearby hiking trails and going camping in the wilderness (instead of traveling to foreign countries and new places).
Note: Given what the world is currently going through, I don't feel like writing an extensive update about the perks of passive income and financial independence. This is not a "happy" or "positive" update. It's just an update for the record.
---
May 2020 Passive Income Update
My total passive income in April 2019:
– P2P lending: 395.88EUR
– Real Estate Lending: 49.59 EUR
– ETF Dividends: 64.56 EUR
– Stock Photos/Videos: 115.25 EUR
TOTAL: 625.29 EUR (~693.73 USD)
---
P2P Lending & Real Estate Lending Update – May 2020
---
---
P2P & Real Estate Lending Overview – May 2020 Passive Income Update
As part of my May 2020 passive income update, here is a quick overview of passive income that I was earning this past month from three (3) P2P Lending and two (2) Real-Estate P2P Lending platforms that I am currently investing in.
---
Given the uncertainty around the short- and long-term economic ramifications of COVID-19, I believe that there is a real chance that lenders will struggle to pay back their loans, which in turn could lead to delayed payments, P2P lending platforms and loan orgiinators struggling with payback guarantees, etc. For that reason, I am reminding myself that I should only invest what I can afford to lose. P2P lending is a form of high-risk investment which remains to large extend unregulated.
---
---
---
---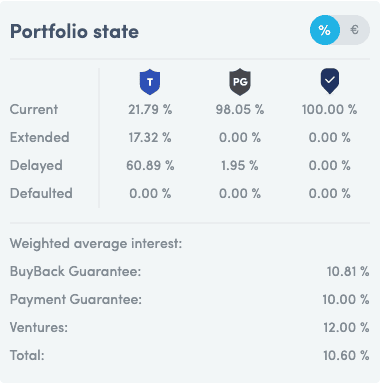 ---
---
---
---
Exchange–Traded Funds (ETF) Update – April 2020 🥳
Even in times of unstable (stock) markets, I hold onto my opinion that investing in the MSCI World ETF back in 2016 was one of the best decisions of my life. I am explaining details in my ETF portfolio post, but in a nutshell, I believe there is no better and more cost-effective way to save & invest long term (e.g. for retirement) while earning passive income from dividends.
Since I started investing in the MSCI World ETF in 2016, the value of the ETF has increased by 37.75% (despite the recent coronavirus-related shock in stock markets). The shares that I bought originally for 145.09 EUR a currently valued 189.89 EUR.
Coronavirus and my ETF portfolio
The spread of the Coronavirus (COVID-19) is severely affecting global economies and the 1600+ companies under the MSCI World are affected just as much. The UBS MSCI World that I have invested in since 2016 had temporarily dropped in value from 224 EUR to 164 EUR per ETF, but is now already back up at 189 EUR. In total numbers, that means that my ETF portfolio (~73,000 EUR) has lost 7,52% of its value this year, but is already on its path to recovery. I am not worried!
Looking back at the past weeks, I wish I had bought more than 10,000 EUR given that the ETF is now back up to almost 190 EUR per share. Seeing the plummeting value of the MSCI World ETF in March, I bought an additional 10,000 EUR worth of UBS ETF (LU) MSCI World UCITS ETF (USD) A-dis shares (First 5k EUR tranche at 172 EUR/share and second 5k EUR tranche at 160EUR/share). I should have bought more.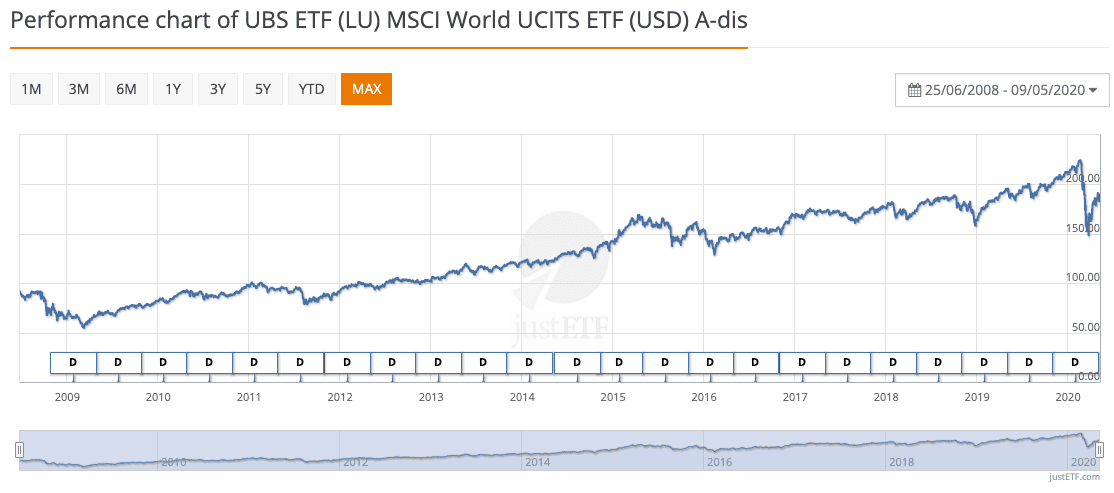 My 1,000 EUR monthly ETF savings plan
Many of you will know about my 1,000 EUR monthly ETF savings plan which I talked about in my January Blog Post. It's automated, runs in the background, and keeps buying MSCI World ETFs worth 1,000 EUR on the first of every month. It's a fantastic way of cost-averaging and keeps me committed to my financial savings goals. More about my ETF savings plan and why it was such a great idea to go back to an automated saving plan in this blog post.
---
That's it for my May 2020 Passive Income Update! If you are interested, please follow my journey on my Facebook page Financial Freedom Journey for more frequent updates. And as always: If you have any questions or comments, please pop them in the comment section below. Or get in touch via Facebook or Email.
Stay safe, stay healthy, and please do practice social distancing,
Peter 👋