April is over, and here are my numbers. I worked in a 9-to-5 office environment for the past 8 weeks (on assignment in Myanmar) and I have learned – once again – how important it is to build passive income. Passive income allows me to be financially free and to make free decisions in terms of where and how much I want to work.
Something that really shocked me about the past 8 weeks working Monday to Friday nine to five, is that they have passed in no time. Days at the office have left only a handful of memories. Weeks have flown by, and weekends felt too short to really do something meaningful. Looking back, it feels a bit like someone owes me my time. Except that there is no one. But myself and the decisions that I make. 🤔

"Because in the end, you won't remember the time you spent working in the office or mowing your lawn. Climb that goddamn mountain."

― Jack Kerouac
There is more to life than just working a 9-to-5 job. More to life than days spent at the office. The experience over the past weeks inspired me to continue building passive income, to be able to make financially independent decisions. 🚀
---
Passive Income Overview – April 2019
Now, on to my passive income numbers for April 2019:
My total passive income in April: 569.79 EUR*
*I decided to start including my ETF dividends in the monthly passive income starting this month. My April dividend was 92.67 EUR.
---
P2P Overview – April 2019
| P2P Lending Platform | Apr'19 Interest Income | Apr'19 XIRR | Total Investment | Current Value |
| --- | --- | --- | --- | --- |
| Mintos | € 282.76 | 11.88% | € 23,000.00 | € 28,846.51 |
| Twino | € 1.59 | 6.32% | € 0 | € 303.79 |
| Swaper | € 124.00 | 12.95% | € 11,000.00 | € 11,617.54 |
| Grupeer | € 68.77 | 13.58% | € 9,000.00 | € 9,154.71 |
Mintos: Things are going very smooth. No cash drag and great loan performance. Mintos remains my favorite platform. 11.88 % XIRR in April.
Twino: I left Twino earlier this year and did not regret it.
Swaper: My second favorite platform. Plenty of loans available. Minimal cash-drag and a rocking 12.95 % (XIRR) performance.
Grupeer: Still relatively new to the platform but I am starting to see the perks of Grupeer. Hundreds of loans with buyback guarantee available with interest rates above 13 %. My self-calculated annualized return for April was 13.50 % (XIRR). I doubled down and invested an additional 3,000 EUR in April.
---
ETF Overview – April 2019 🥳
The MSCI World ETF is running great and April was a good month. Overall, my ETF portfolio has gained 18.14 % in value since the beginning of the year (37.22 % since I first started investing in March 2016). The strong performance over the past few weeks lets me believe that there will be some 'course corrections' later this year. For new investors, I would either wait a bit or apply with 4-cycle investment approach.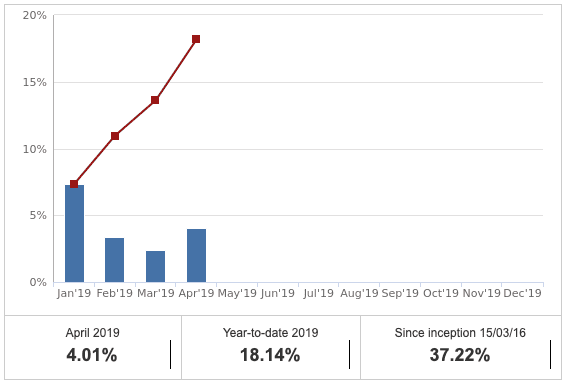 ---
Financial Transactions in April 2019
🔰 Overview of all my transactions.
---