July 2019 – Passive Income Update
Here is my passive income update for July 2019. July was a fantastic month and I could really see the effects of compound interest as my passive income is growing monthly. For the first time, my passive income exceeded 900 EUR in July 2019 (~1000 USD). Who would have guessed that when I started building a passive income portfolio only a few years ago. 🙂
This past month – supported by passive income and thus not worrying about money – I was able to really enjoy the sunny and long days of summer. I met with old friends, went to the beach, enjoyed the warm evenings with long evening walks and cold drinks, and traveled. Most of the month of July did I spend in Turkey ☀️. And a few days in the mountains of Central Asia 🏔️.
I really headed into vacation mode and worked somewhere between 15 and 20 hours per week, mostly in the early mornings and evenings 👨‍💻. The weather was simply too nice to be in front of a computer.
My passive income investment portfolio managed itself and required almost no work. I adjusted my Mintos auto-invest portfolio once to better diversify my investments (more below), as well as decided to give this blog a new design! Let me know in the comments what you think about the new design and updated content.
Now, on to my passive income numbers for July 2019!
---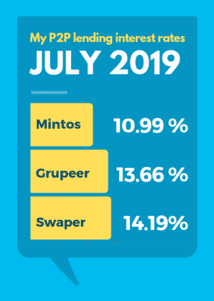 Passive Income Update – July 2019
My total passive income in July 2019:
– P2P lending: 622.84 EUR
– Real Estate Lending: 41.67 EUR
– ETF Dividends: 92.67 EUR
– Stock Photos/Videos: 146.17 EUR
TOTAL: 903.35 EUR (~1005 USD)
---
P2P Lending & Real Estate Lending Update – July 2019
| P2P Lending Platform | July'19 Interest Income | July'19 XIRR | Total Investment |
| --- | --- | --- | --- |
| Mintos | € 306,00 | 10.99% | € 29,000.00 |
| Swaper | € 175.91 | 14.19% | € 14,000.00 |
| Grupeer | € 140.93 | 13.66% | € 12,000.00 |
| Estateguru | € 31.88 | | € 2,000.00 |
| Crowdestate | € 9.79 | - | € 2,000.00 |
---
Platform Overview – July 2019
Mintos: I have 29,000 EUR invested on the Mintos platform which represents 24% of my total investment portfolio. The money is invested across 22 loan originators (all with ratings from A+ to B-) in 20 countries. Honestly, I love how Mintos allows diversifying – there really is no similar platform. My self-calculated interest rate on Mintos climbed to 10.99% per year. What else? I updated my Mintos auto-invest portfolios in July, changing the minimum interest rate to 12.5% and making some other minor adjustments. I also updated my Mintos review and included my critical thoughts on Mintos's Invest & Access feature.
Swaper: The cash drag issues on Swaper have been resolved and I am fully invested with 14,000 EUR. My self-calculated annual interest rate for July 2019 has climbed to 14.19% — which is unbeatable. Still, I wish that Swaper would be more transparent to and communicative with its investors (for example through a blog or published statistics).
Grupeer: I have been reading more and more details and reviews of Grupeer and my trust in the platform has grown. Not to the level of Mintos, but to a level where I consider Grupeer as a great supplement to diversify my passive income portfolio and to access loans to countries not covered by other platforms (Norway, Belarus, Germany). My self-calculated annual interest rate for July 2019 has climbed to 13.66% — which is great. Grupeer, which was only established in 2017 is growing fast. Their number of investors has climbed by 15% last month. Still, plenty of loans are available and I am fully invested with 12,000 EUR. I updated my Grupeer review, presenting my auto-invest settings and showing how to get a sign-up bonus.
EstateGuru: July was the first month in which I received interest from my 2,000 EUR investments on EstateGuru. All 5 loans that I am invested in through my auto-invest portfolio are bullet loans with monthly interest payments (average interest rate 11.11% p.a.). Due to the small number of loans and their different interest payment schedules, my monthly interest payments are fluctuating. Some months I receive more, some months I receive less interest. I updated my EstateGuru review in which I explain details as well as show how to receive a 0.5% bonus as a new investor.
CrowdEstate: Similar to EstateGuru, I have started receiving interest from my 2,000 EUR investment on CrowdEstate in July 2019. I am auto-invested in 7 loans with an average interest rate is 12.58 % per year. As previously mentioned, I prefer EstateGuru over CrowdEstate due to their higher diligence and better-secured loans, in return for only a slightly smaller interest rate.
---
Exchange–Traded Funds (ETF) Update – July 2019 🥳
The MSCI World ETF was exceptionally strong in July and I am glad that 42% of my total investment portfolio is the MSCI World ETF. Overall, my ETF portfolio has gained 19.46 % in value since the beginning of the year and 38.74 % since I first started investing in March 2016.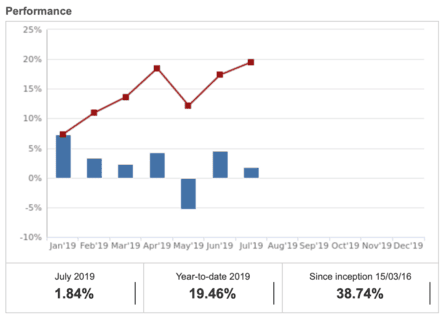 ---
That's it for July 2019! Thanks for reading. If you are interested in more frequent updates, follow the Financial Freedom Journey page on Facebook or Twitter.
If you have any questions or comments, please write them below or get in touch via Facebook or Email.
Cheers,
Peter 👋