October 2019 Passive Income Update
Welcome to my October 2019 Passive Income Update. October was a hectic and travel intensive month (8 flights). But that being said, I loved every single place I got to spend time in (Taiwan, Qatar, Turkey, Bangladesh, Thailand). My passive income in September totalled 1,008.58 EUR (~1117 USD) without any work at all. For the first time, I crossed the 1k mark, which is incredible. How did I get there? More below.
In my September Passive Income Update, I talked about compound interest and how my investment portfolio keeps growing by itself every month – without me adding additional funds. I created a small graph to visualize the growth of my P2P Lending Portfolio over the past 6 months (and this is absolutely without adding new funds!). It's really crazy!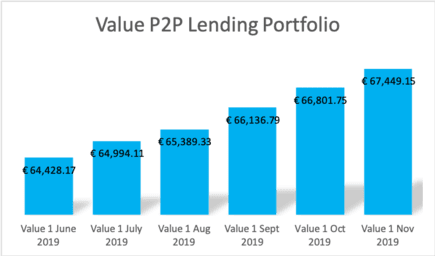 Back to the October update. I was on the road for most of the month, about half of it for work, the other half for fun. I spent 11 days in Taiwan and totally fell in love with the country, its people, and its food.
The last few weeks were really busy work-wise. Hence the slighly delayed October post for which I apologize. Over the past weeks, I might have said 'yes' to a few too many things at my remote job. Something I want to work on next year is to say more 'no' to jobs. Knowing that my passive income can support more 2/3 of my living expenses, I don't need to work 40-50-60 hour weeks. 👨‍💻
As in previous months, my passive income investment portfolio managed itself this past month. Everything is on auto-pilot and requires no work at all. I ususally log into my accounts once every two weeks just to make sure that the auto-invest is picking up loans.
Now, on to my passive income numbers for October 2019!
---
October 2019 Passive Income Update
My total passive income in October 2019:
– P2P lending: 604.68 EUR
– Real Estate Lending: 34.96 EUR
– ETF Dividends: 96.15 EUR
– Stock Photos/Videos: 272.79 EUR
TOTAL: 1008.58 EUR (~1117 USD)
---
P2P Lending & Real Estate Lending Update – October 2019
| P2P Lending Platform | Oct'19 Interest Income | Oct'19 XIRR | Total Investment |
| --- | --- | --- | --- |
| Mintos | € 317.204 | 11.04% | € 29,000.00 |
| Swaper | € 154.92 | 12.06% | € 14,000.00 |
| Grupeer | € 132.72 | 12.43% | € 12,000.00 |
| Estateguru | € 24.79 | 14.36% | € 2,000.00 |
| Crowdestate | € 10.17 | 6.10% | € 2,000.00 |
---
P2P & Real Estate Lending Overview – October 2019 Passive Income Update
As part of my October 2019 passive income update, here is a quick overview of passive income that I am earning from three (3) P2P Lending and two (2) Real-Estate P2P Lending platforms that I am investing in.
---
---
---
---
---
---
Exchange–Traded Funds (ETF) Update – October 2019 🥳
Still no sign of a global economic recession when looking at the MSCI World ETF, rather the opposite: My MSCI World ETF incresed in value this past month from 198.58 EUR to 201.75 EUR. 🥳
Finally, I decided to sell my DAX ETF. I initially bought them in 2016 (92 EUR per share) and then added more in in 2018 (104 EUR per share), but realized that a good share of the decision to buy them was home country bias. I sold them in October for 107 EUR per share, which I will now invest in the MSCI World (either all at once or as a savings plan to accomodate for price fluctuations).
Generally, my ETF portfolio has been doing really incredible: This year my ETF portfolio has gained 22.67% in value. Since I started in 2016, the value of my portfolio has increased by 42.37%. In EUR terms, that means that the 63,000 EUR that I invested slowly since 2016, are today valued 76,925.99 EUR and I received an additional 2831 EUR in dividends over the past three years (which I used and spent as passive income).
---
That's it for my October 2019 Passive Income Update! I hope that all of you are enjoy the beauty of this sunny and georgeous fall 🍁. If you like to, please follow my journey on my Facebook Financial Freedom Journey page for more frequent updates. And as always: If you have any questions or comments, please pop them in the comment section below or get in touch via Facebook or Email.
All the best and happy November,
Peter 👋